40 Days for Life - Take a stand for life
While all aspects of 40 Days for Life are crucial in the effort to end abortion, the most visible component is the peaceful prayer vigil outside abortion facilities. You can help make a life-saving impact by joining a local vigil.
Sign up to participate in your local 40 Days for Life vigil by clicking the "Vigil Schedule" link at the top of their web page. To do this, please click on the vigil schedule tab below, register as a NEW USER and follow the instructions thereafter. Please only do this if you have not used their website before, otherwise your previous details will still be valid.
Be sure to sign-up for updates and prayer requests using the form at the top right of their page, and browse through the rest of this site <![if !vml]>

<![endif]>to find out how YOU can help make a lifesaving impact as part of a local 40 Days for Life campaign.
Birmingham Pro-Life March
On Sunday March 10 there will be a March for Life in Birmingham.  A coach will be going from London.  Details should be available shortly from the 40-days for Life organization.  Click here to be kept informed
A very sobering lecture on hell
Recently, Quentin de la Bedoyere informed us via his blog that he did not believe in Hell.
I commented that, "… as Christ mentioned hell about ninety times, and Heaven only about twenty-seven times, it's such a pity you are not in a position to enlighten Our Lord with your theological insights - Is there no chance of putting Him on your blog's list of readers?."
Quentin responded, "He is always free to join in but so far no sign.  If He did it might solve the mystery of why He never laughs or smiles. Perhaps you have some ideas".
It's a mystery why modernist, whose central dogma appears to be that nothing is certain, are nonetheless quite certain about irrelevancies!  The gospels are about twenty minutes reading, but Christ lived for 33 years!  I'm sure that if I spent twenty minutes reading Quentin's blog, there may be a few important dimensions of his life, not relevant to the articles, which were omitted - he might, for example, not mention his affection for his grandchildren.  Would that justify some bright spark 2,000 years from now, demanding to know why Quentin had no relationship with his grandchildren?
Nowhere do the gospels claim to be an exhaustive biography, as far as I'm aware.  Indeed, they do not even comprehensively cover the three years of Christ's public life.
For me hell as always seemed an ontological necessity.  If man is of his nature eternal, and if man has free will, it must be possible for man to die eternally estranged from God.  Are we really comfortable with the idea that Christ welcomed Hitler into eternity with the words, "Come, ye blessed of my Father, possess you the kingdom prepared for you from the foundation of the world."?
For a very sobering treatment of the doctrine of hell, see the embedded video below: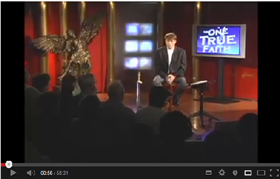 The Pope's resignation
I'm not comfortable with the Pope's resignation. "Pope" means father, and fatherhood is not something you resign, not even in your dotage.  It also makes the papacy seem like just another job.  Nevertheless, I'm also very aware that God can bring good out of evil.
One possible good is the shelving of the wacky canonization of Paul VI and JP2.  We need to pray and fast that this becomes more than merely "a shelving".  I've just thought of another "good": Vincent won't be able to vote – yet, on the other hand, Comic Murphy-O'Connor won't be eighty until August, so he will be able to vote.
Corruption in the diocese of Westminster
Apart from its special Masses for militant sodomites, I'm informed that in one of the diocesan offices, one of our post-Conciliar Judases couldn't wait to tear down all the quotes and pictures of Benedict XVI, virtually slobbering at the mouth while doing so.  These were apparently removed within hours of Benedict XVI's resignation becoming public, whilst of course he was yet still pope!
Ah well - I suppose wolves in wolves' clothing are marginally better than wolves in sheep's clothing; but do remember, the next time you put money in a diocesan collection plate that these are the sort of people whose wages you are helping to pay.